Faculty Of Pharmacy
The latest inclusion in the University is Krishna Institute of Pharmacy. It was stated in year 2017 with the intake of 60 students. Within 2 years the intake capacity is increased to 100 per year. Advanced laboratories, classrooms and enthusiastic faculty are the main pillars of the institute
Contact:
(02164) 241555 / 241556 / 241557 / 241558 Extension: 478
deankip@kimskarad.in
About - Faculty Of Pharmacy
Pharmacy Profession is one of the integral components of Healthcare Profession along with Medical, Dental, Physiotherapy and Nursing Profession. No healthcare is complete without treatment with drugs where pharmacist plays an important role.
Origin of the profession: The History of Pharmacy education in India dates back to 1932, when a two year Degree Course in Pharmaceutical Chemistry for B.Sc., marked the beginning of pharmacy education at Banaras Hindu University by Prof. Mahadev Lal Schroff, who is also known as Father of Pharmacy Education in India. The first B. Pharmacy Course approved by Pharmacy Council of India at Birla College, Pilani in 1954.
From the days of Sushruta to present time in 2020, pharmacy profession has come a long way & grown by leaps and bounds. For the growth of any country, "health" of the people in the country is very important & people should have access to quality medicines at affordable prices.
Drugs & Cosmetics Act of 1940 is considered as a landmark in the annals of pharmacy profession since it ensures that quality medicines are available to people. Today, the pharmacy profession is one of the most important & thriving professions in this country which is growing at 12% per annum.
India is the largest manufacturers & suppliers of generic medicines & is ranked number one in this category. India caters to around 40% requirement of medicines across the world. It is ranked 14th in terms of value and 3rd in terms of volume in the world.
India boasts of excellent state of the art manufacturing facilities in the pharmaceutical industries. Around 40% of the pharmaceutical industries are approved by WHO, USFDA, TGA Australia, MHR UK & ANVISA Brazil. Indian Pharmaceutical Sector exports drugs throughout the world and caters to most of population of the world.
Indian Pharmaceutical industry is highly regulated industry which is continuously evolving & changing. API's, intermediates, conventional dosage forms like tablets, capsules, ophthalmic, aerosols, liquid orals are manufactured in pharmaceutical industries pan India which fall in categories like multinational companies, large scale manufacturing units, small scale manufacturing units.
Apart from this, India is a manufacturing hub for medical devices, novel drug delivery systems like liposomes, niosomes, solid lipid nanoparticles, transmucosal drug delivery systems, implants etc. Any pharmaceutical industry in India is at par with the best pharmaceutical industries in the world.
We at Faculty of Pharmacy, consider our bound duty & responsibility to produce pharmacy graduates who will be tailor-made to meet stringent requirements of pharmaceutical industry, competent health care professionals.
We consider ourselves a privileged lot to have been chosen or given the responsibility to mould quality healthcare professionals the torch bearers of the pharmacy profession into the next country.
LONG LIVE THE PHARMACY PROFESSION & THE PHARMACIST!
Key Person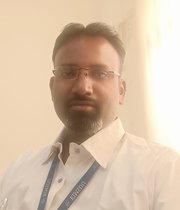 Dr.Amol S.Shete
Dean (I/C)
Faculty Of Pharmacy

Tel (Office) – (02164) 241555 / 241556 / 241557 / 241558 Extension: 478

deankip@kimskarad.in
Dr. Amol Shete is presently working as Dean (I/C) Faculty of pharmacy at Krishna institute of pharmacy of Krishna Vishwa Vidyapeeth (Deemed to be University), Karad. He has Completed his (B. Pharm) 2006 and M.Pharm (2008) from Government College of Pharmacy Karad, Shivaji University, Kolhapur (MS) and completed PhD from Jawaharlal Nehru technological University Hyderabad (Feb 2018) Till date total teaching experience (B.Pharm) more than 14 years 10 months, 6 years is at post graduate level (M.Pharm, Pharmaceutics and Quality assurance) and as a Head of department. Guided 22 PG students for dissertation and currently guiding 6 PhD's at KVV, Karad. Published 45 papers in various national and international journals of repute out of these 16 in science citation indexed journals with cumulative impact factor given by Thomson rutures more than 30, 26 in other database indexed journals. Presented more than 25 papers in various conferences, seminars and 12 copyrights to his credit. 861 citations, H-Index of 13 also authored one book entitled as Experimental biopharmarmaceutics and pharmacokinetics He is a reviewer for international journals like: Product development and technology official publication of informa healthcare USA, Drug development and industrial pharmacy, International journal of pharmaceutics, IJPS, IJPER etc. Coordinated seminars and conference, invited as a speaker for various conferences, delivered guest lecturers at various conferences and workshops. He is a life member of professional bodies like APTI, ISTE, KPSF and CRS Indian chapter. He is a Member of board of studies, academic council, IPR cell of KVV, Karad and Internal Auditor for ISO- 9001-2015 series. His area of research interest is crystal engineering- Material science, pharmaceutical excipients, vesicular drug delivery system and liquid crystals.
Events, Webinar, Workshop, Conference